The Bridge Owners Forum promotes co-operation, collaboration and partnership amongst bridge owners and managers from across the UK and Ireland. Working closely with the UKRLG Bridges Board, the forum facilitates the sharing of best practice in the design and management of bridges and identifies opportunities for research or improvement in practices.
The Bridge Owners Forum was founded in 2000 and meets three times a year.
At an ICE/HA sponsored conference in London on Bridge Rehabilitation in early October 2000, it was pointed out by some delegates that there was no single national forum at which the major bridge owners of the UK could discuss and co-ordinate research projects and priorities. This need was highlighted when one speaker presented work on a current research project which, it turned out, was very similar to one also being undertaken, quite independently, by another bridge organisation.
Discussions took place between various key people from the major bridge owning organisations as to ways in which better co-ordination and dissemination of current research and development projects could be achieved. As a result, Dr Campbell Middleton of the Department of Engineering at the University of Cambridge offered to facilitate a one-day Bridge Owners Forum at which the major bridge owning organisations would have an opportunity to hear about research projects currently underway throughout the UK.
The inaugural Bridge Owners Forum meeting was be held at King's College, Cambridge on Tuesday 21st November 2000. Meetings of the Owners' Forum now take place three times a year.
Although one of the initial concepts of the Bridge Owners Forum was to retain a degree of independence, it was always recognised that there needed to be strong links to other national bodies. By coincidence, also in 2000, Ian Holmes, a senior civil servant in the Department for Transport set up the Roads Liaison Group, below which sat Boards covering Roads, Lighting, Network Management… and Bridges: the UK Bridges Board. This incorporated all devolved governments as well as local highway representation through the then County Surveyors' Society (CSS which later became ADEPT – the Association of Directors of Environment, Economy, Planning and Transportation).
CSS/ADEPT has its own Bridges Group and is a sub-group of the organisation's Engineering Committee. Perhaps more importantly, it hosts a number of Area Bridge Groups from each of the original English regions, providing support to the almost 200 local highway authorities in the UK. Similarly, Scotland has SCOTS (Society of Chief Officers of Transportation in Scotland) and Wales has CSS Wales. All of these bodies are also represented on BOF and UKBB. BOF's membership is unique among the three bodies in that we also cover Ireland in the shape of their DfT equivalent, Transport Infrastructure Ireland.
In its first decade, BOF and UKBB were largely independent of each other but, from 2010, regular liaison took place, hosted by DfT. It was in 2016 that the two bodies' relationship was formally established with BOF being considered as a sub-group to UKBB. Whilst the latter 's remit was to concentrate on policy and strategy, BOF was to be more tactical not only focussing on research but also able to commit more time and energy to particular issues, as the need arose. A significant outcome of this arrangement was for BOF to formally be represented on UKBB.
The inter-relationships, not only between BOF and UKBB but also including ADEPT is best illustrated by the Venn diagram below: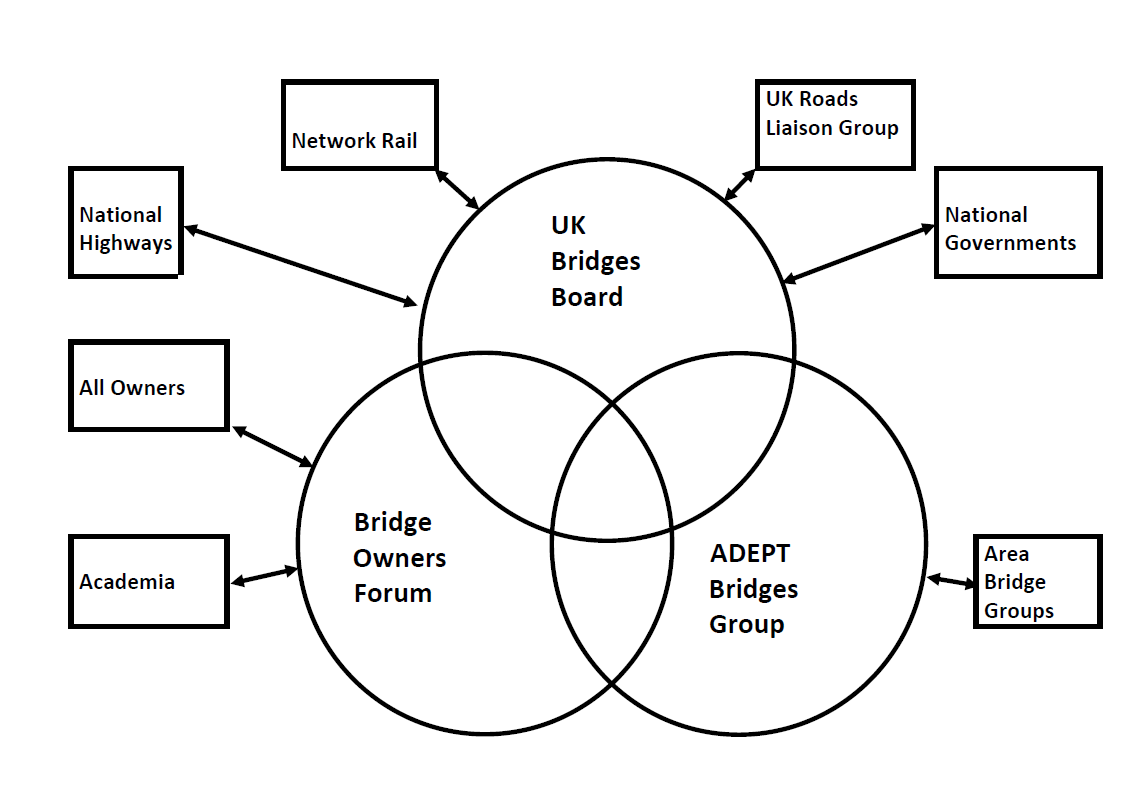 BOF membership continues to grow, with relatively recent additions being the likes of Forestry England, Rochester Bridge Trust, SSE, East West Rail and the Heritage Railway Association. All bridge owners who value the benefits of their membership and the opportunity to engage and contribute to improvements in bridge management and the overall outcomes of the safety and sustainability of our bridges.
The following terms of reference were agreed unanimously at BOF27 and agreed by the UK Bridges Board:
Promote co-operation, collaboration and partnership amongst bridge owners
Identify technical and research needs/priorities to promote good practice in the management of the bridge infrastructure
Disseminate information
Recommend research priorities avoiding duplication
Provide technical advice/support to the UK Bridges Board and bridge engineers on issues affecting the bridge infrastructure